How to Choose a right Ceiling Fan
Ceiling fans aren't just for cooling the room. Our new features and technologies mean they're more energy-efficient than ever. They are designed to improve airflow, they also help circulate heat throughout your home in the winter. A ceiling fan equipped with a light kit can also be a great way to add an additional source of light. Nowadays, the well-designed ceiling fan also adds a decorative function that ties the room together as the focal point.
Today, we are going to break down everything you need to know—plus share some useful tips on making the right choice for your needs and budget.
Size
Ceiling Fan Size Guide
| Blade Span | Good for | Room Size |
| --- | --- | --- |
| 29" to 36" | Bathrooms, Breakfast Nooks, Utility Rooms | Up to 75 sq. ft |
| 42" to 48" | Bedrooms, Kitchens, Dining Rooms | Up to 175 sq. ft |
| 52" to 56" | Large Bedrooms, Family Rooms, Media Rooms | Up to 350 sq. ft |
| 60" or larger | Great Rooms, Other Large Spaces | More than 350 sq. ft |
Size is important. If your ceiling fan is too small for your room, it won't move air efficiently or effectively. If it's too big, it could create the feeling of being in a wind tunnel. Here, you can find the right one for your room.
Ceiling fan size is characterized by its diameter. To find the diameter, measure from the end of one blade to the end of the opposite blade. Our ceiling fans come with a different number of blades and blade lengths.
Small: Rooms that are no more than 8' x 10' should have ceiling fans between 21" and 40" in diameter. Small rooms include dens and kitchen nooks.
Medium: If your room is up to 12' x 14', stick with a fan that is 42" – 54" in diameter. Medium rooms include bedrooms and dining rooms.
Large: A room that is up to 18' x 20' should feature a fan that is 52" – 60" in diameter. This includes family rooms and large bedrooms.
Larger: Great rooms are more than 18' x 20' and should include a fan that is larger than 60" in diameter. Great rooms are characterized by open floorplans and large foyers.
Style
Now that you've determined the correct ceiling fan size for your room, you need to consider that your ceiling fan should also fit in with and add to the aesthetics of your space. Fans come in dozens of styles: rustic, traditional, industrial, modern and more. Consider your room's current structure and style, and look for a fan that suits it. You can play around with style, finish, blade type, light fixture, and features to customize the perfect ceiling fan. Parrot Uncle designs a variety of ceiling fans. We have multiple finish options, for both the ceiling fan body and blades to coordinate with the style of your home.
With their sleek designs, clean lines, and warm, neutral colors, modern ceiling fans are simple and understated in appearance. Modern fans vary in form from Scandinavian to mid-century designs.
These refined fans typically feature intricate details and thoughtful designs that add richness and warmth to a space. Our traditional ceiling fans blend classic style and innovative features.
An ideal addition to countryside-inspired designs, rustic ceiling fans create a natural feel. Cast-iron inspired housings and weathered blades bring cabin-like charm into the home and outdoor living spaces.
Industrial style ceiling fans bring urban-inspired spaces to life drawing inspiration from modern machinery and unique features like propeller-style blades or smooth wood finishes.
Mounts
A mounting system should be chosen based on the room's height and ceiling slope. There should be at least seven feet of distance between the floor and the fan blades. If you have a vaulted ceiling or your ceiling is more than nine feet high, we recommend adding a longer downrod. The following are three mount types available for ceiling fans.
Flush Mount
For ceilings less than 8 feet tall, choose a flush-mount ceiling fan. These fans mount next to the ceiling and help maintain the recommended minimum 7-foot clearance between ceiling and floor.
Downrod Mount
When outfitting a fan in a room with high ceilings, the height of the fan can be lowered using a narrow section of pole called the downrod. Downrods usually come in sections as short as 6" long and they secure to the fan casing on one end and the ceiling bracket on the other. They are strong enough to support the weight of the fan against the force of the fan's motor and the blade's circular momentum.
Angled Mount
If you have vaulted ceilings with a slope up to 52 degrees, use a hanger ball adapter like our convenient ceiling fan adapter to make sure that your fan hangs straight.  Most ceiling fans can hang from sloped or vaulted ceilings that are less than 21 degrees, attachment kits can be bought for fans hanging on slopes that are steeper.
Lights or no lights
Whether the fan is lighted depends on the lighting effect of your room and personal preference. With and without lights have their own characteristics. Next, we will introduce to you the difference between with lights and without lights.
Fans with lights
For spaces with limited natural lighting, purchasing a ceiling fan with lights is a great option to consider. Ceiling fans with light kits can be supplemented with other fixtures to provide sufficient illumination in darker spaces. When looking for ceiling fans with lights, check for integrated light dimming features. Ceiling fans with dimmable lights allow you to set the mood in your space. Our wall controls and handheld remotes make the process of adjusting your lighting easy, too.
Fans without lights
If you plan to install your new fan in a room with good natural lighting or ample light from other sources, a ceiling fan without lights is a good option. If you decide that you need more lighting in the future, many ceiling fan models can be easily modified after installation with the appropriate light kit.
Fandelier ceiling fans are generally more industrial in style, and with unique lamps, they look like a ceiling light. This style is more resource-efficient and has light and wind at the same time. The fandelier designed by Parrot Uncle can have a variety of choices, and you can choose the fan that suits you according to the decoration style of your home.
A retractable ceiling fan is a type of fan that features retractable blades. These blades retract when turned off and spread out when it is turned on. Retractable ceiling fans are both functional and stylish. They are a must-have for a lot of houses because they help keep the energy bill low by circulating air throughout the rooms. They come in a wide array of styles, sizes, and designs that you can easily find the one that suits the theme of your home. They usually have a chandelier look that gives off an industrial feel. They are ideal for modern and even traditional-style houses. You can choose from a wide array of styles that are available on our website.
Number of Blades
Ceiling fans have different numbers of blades and different ranges of air supply. Generally speaking, the more blades, the wider the air supply range. The number of blades can vary depending on the size of the room or personal preference. Parrot Uncle offers you a variety of options: 3-Blade, 4-Blade, 5-Blade, 6-Blade and more.
If your living room or bedroom area is not very large, you can choose this three-Blade fan, the use is sufficient. 3-Blade fans are classic and you can choose from different styles.
This 4-Blade ceiling fan designed by Parrot Uncle is suitable for any room. Such as a bedroom, dining room or office and so on.
5-Blade ceiling fans have more blades, which can cut the wind into smaller pieces and make it softer, so 5-Blade ceiling fans bring better comfort to the human body. At the same time, it can also ensure the mute, which can be used safely in the bedroom.
6-Blade
6-Blade ceiling fans are more suitable for large living rooms or bedrooms, providing a wider range of air supply and also being silent. Parrot Uncle has designed a beautiful 6-Blade fan for you to choose from.
Blade Material
The material of the fan blade is one of the important factors that determine the performance and life of the fan. Choosing a fan blade material requires consideration of several factors and should be evaluated based on the environment in which the fan will be used and personal preference. The following are common fan blade materials:
ABS
ABS fan blades are stronger and more durable than other plastic materials, not easily deformed or worn. ABS material has good UV resistance and is not easy to fade or turn yellow. Compared with plastic fan blades, ABS fan blades produce less noise and vibration, and are relatively smooth when rotating at high speeds. Fans with ABS blades are suitable for occasions that require relatively high durability and stability.
Plastic
Plastic blades are lighter than blades made of other materials, making the fan more portable and easy to move. Easier to clean than other material fan blades, just wipe with a damp cloth. Plastic fan blades are generally more durable than wood fan blades and won't warp or break as easily. Fans with plastic blades are suitable for occasions that require light weight such as homes or offices.
PC
PC fan blade is a fan blade material made of polycarbonate. It has high thermal stability and can withstand high temperature and high humidity environments. PC fan blades are stronger and more durable than other plastic materials, not easily deformed or worn.
Plywood
Plywood fan blade is a fan blade material made of multi-layer thin wood boards. With natural wood grain and texture, it can add a nice look to the fan. Sturdy and durable, not easy to deform or wear. Plywood material is made of natural wood, which is more environmentally friendly than plastic fan blades. Fans with Plywood blades are suitable for occasions that require aesthetics and environmental protection, such as family living rooms and restaurants.
Other Tips
Better Motor, Less noise&energy cost
We know ceiling fan is a hardworking household appliance, and choosing one that will last starts with what's inside. This is especially important for ceiling fans that will be used often and for hours at a time, such as in bedrooms or living rooms.
Parrot uncle designs ceiling fans that are well-balanced and will not wobble or make noise, even after decades of use. In addition, a motor with a reverse function enables your ceiling fan to be used year-round. 
Motor Quality
AC (alternating current) and DC (direct current) motors are two different types of electric motors that convert electrical energy into mechanical energy. Here are some of the main differences between AC motors and DC motors:
Power source:
AC motors run on alternating current, while DC motors run on direct current.
Construction:
AC motors are generally more complex and have more parts than DC motors. DC motors are simpler and easier to maintain.
Starting torque:
AC motors have lower starting torque compared to DC motors, which means they are not as good at starting and stopping quickly.
Speed control:
AC motors are easier to control at high speeds, while DC motors are better suited for lower speeds.
Efficiency:
AC motors are generally more efficient at high speeds, while DC motors are more efficient at low speeds.
Overall, both AC and DC motors have their own unique advantages and disadvantages, and the choice between them depends on the specific application and requirements.
Energy Efficiency
Ceiling fans are a popular and cost-effective way to cool a room or space. When it comes to energy efficiency, ceiling fans are generally much more efficient than other cooling options like air conditioners. Here are some factors that affect the energy efficiency of ceiling fans:
Energy efficiency: 59.72
Size: The size of the fan blades and the size of the room will affect the energy efficiency of the ceiling fan. A larger fan blade will generally move more air, which can help cool a larger room more efficiently.

Speed: Running a ceiling fan on a higher speed will use more energy, but it can also provide more cooling power. Running the fan at a lower speed will use less energy, but may not provide as much cooling.
Energy efficiency: 163.73
Direction: Most ceiling fans have a switch that allows you to change the direction of the blades. Running the fan in a counterclockwise direction during the summer will create a cooling breeze, while running it in a clockwise direction during the winter can help circulate warm air.

Energy Star certification: Look for ceiling fans that are Energy Star certified. These fans are tested and certified to meet certain energy efficiency standards, which can help save energy and reduce electricity bills.
Overall, ceiling fans can be a very energy-efficient way to cool a room or space, as long as they are used correctly and maintained properly. Regular cleaning and maintenance, such as dusting the blades and ensuring the fan is balanced, can also help ensure optimal performance and energy efficiency.
Control Options 
While the classic pull chain is still a staple for controlling any available light and the speed of a ceiling fan, for an even more convenient experience, many ceiling fans with remotes are available. Our fan remotes offer push-button controls for the different speed settings, as well as the light settings. This is particularly useful with dimmer lights. The remote controls often include a mounting frame to store the remote on the wall where there would otherwise be a traditional light switch, so the remote can be held in hand and used throughout the room, or it can be left on the wall and easy to find.
Installation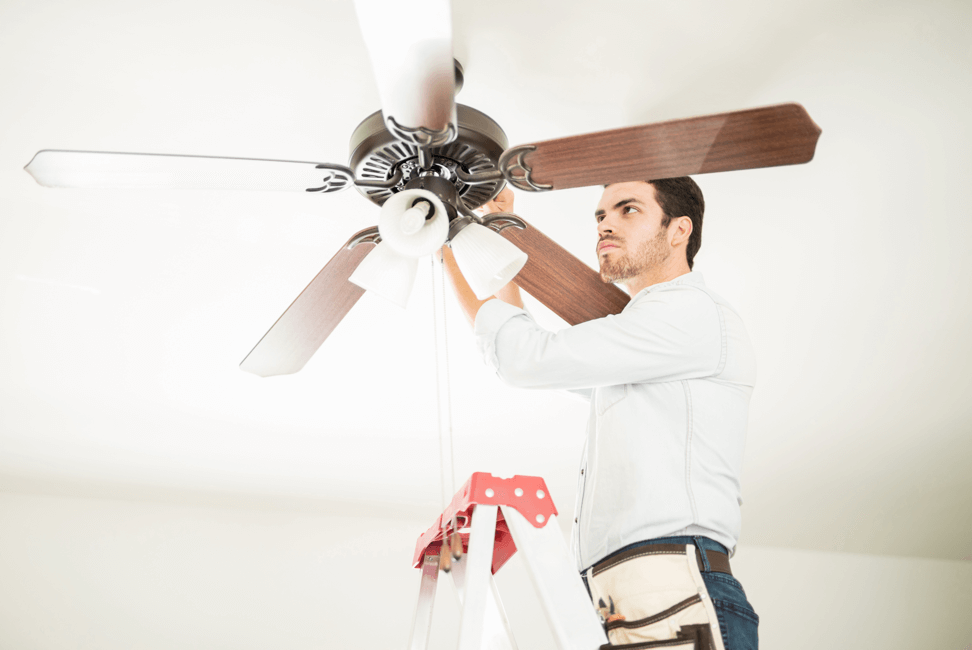 When you are ready to address ceiling fan installation, it's important to consult a licensed electrician who will know how to install a ceiling fan safely and accurately. Because ceiling fans are heavier than the average light fixture, special considerations should be made concerning ceiling fan wiring to ensure the location is strong enough to support the fan and the wiring doesn't pose a hazard. Ceiling fan assembly is usually minimal and requires only attaching the blades to the motor but hanging the fan can be more complicated; safety is crucial. Your new fan will come boxed with all the necessary parts and instructions so your electrician can install your new fixture with ease.
Having ceiling fans can add style and also provide comfort to your home. Not only does it look great, but it can also help circulate the air and lower your energy bills.  
Finally, buying a ceiling fan that is not only functional but also adds a little puzzas in the space from a reliable vendor is also important. Parrot Uncle offers free shipping in the U.S.A., fast return, five-star warranty and a technical support team ready to answer all your questions.   Thank you for reading!